NICK CAVE AND THE BAD SEEDS GRINCHERMAN MUSIC INSPIRED A6 FESTIVE CHRISTMAS CARD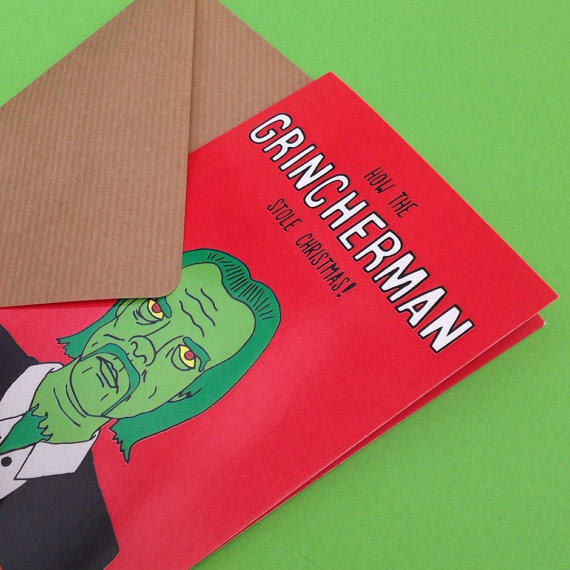 Nick Cave and the Bad Seeds Grincherman Music Inspired A6 Festive Christmas Card
---
---
It's a long story but this card was inspired by a well-timed pun and a Nick Cave gig at a leisure centre in Hove. This card was designed and digitally printed in the UK and can be delivered "straight to you"! The outside is illustrated in the style of the classic festive children's book and the inside greeting reads:

SO CHRISTMAS VANISHED INTO AIR
HE STROKED HIS LONG GREEN SLICKED BACK HAIR
PROUDLY, YOU COULD HEAR HIM SAY,
"I PUSHED THAT CHRISTMAS FAR AWAY!"

"NO YULE FROM HERE TO JUBILEE STREET,
OH WHAT A DEVILISH, EVIL TREAT!"
A CHORUS SWELLED OF CRIES AND BOOS
FROM EVERYONE'S "NO SANTA BLUES"

THAT MEAN OLD GRUMP, THE GRINCHERMAN,
HE STOLE IT WITH HIS RED RIGHT HAND
AND SMILING AT THIS AWFUL DEED
HE SAID, "I AM A REAL BAD SEED."

HAPPY CHRISTMAS!

There is also space to write your own message too. See how many Cave lyrics you can spot! Card comes with a brown paper envelope.
Buy 5 cards or more and get 15% off their total (excludes postage).
---
The item has been added to your basket